ACE ATKINS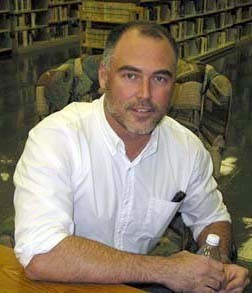 Nach dem Tod von Robert B. Parker wurde jetzt bekannt, dass der US - Autor Ace Atkins die Nachfolge übernimmt. Der 1970 in Springfield geborene geborene Schriftsteller hat mit seiner "Nick Travers Mystery" Reihe zwar schon seinen eigenen Roman- Helden am Start, der bislang schon 4 Romane absolviert hat, doch Atkins sagt von sich selbst, dass er seit vielen Jahren ein glühender "Spenser" Fan ist und von Parkers Hausverlag Putnam offiziell zu dessen Nachfolger gewählt wurde.
Angefangen hat er als Journalist und Gerichtsreporter in Florida. Während dieser Tätigkeit war er einmal für den Pulitzer Preis nominiert für eine Serie von Artikeln über einen vergessenen Mord in den 50er Jahren. Mit 27 Jahren hat er sein erstes Buch geschrieben und hat sich im Alter von 30 Jahren entschieden nur noch als Autor tätig zu sein. Bekannt ist er für seine Romane über historische Verbrechen und Verbrecher. Der Autor ist nach eigenen Angaben ein langjähriger Spenser Fan und das erste Buch aus seiner Feder ist für das Frühjahr 2012 geplant. Bereits im Juni diesen Jahres kann man ein Gespür für seine Fähigkeiten bekommen, da dann das erste Buch "The Ranger" seiner eigenen Crime Roman Reihe um den Army Ranger Quinn Colson erscheinen soll.
After the death of Robert B. Parker, news were released in 2011 that a new author will be continue Parker's legacy. The Springfield-born (1) writer has began writing in 1998. He created his "Nick Travers" series in that year, and since then he published 16 novels, including four stand-alone's. He was always a Spenser fan and in 2011 he was chosen to continue the Spenser series.

He started as a journalist and court reporter in Florida. During these activities he was once nominated for the Pulitzer Prize for a series of articles about a forgotten murder in the 50s. At 27 years he has written his first book and decided at the age of 30 years, he will only work as an author from now on. He is best known for his historical novels about real life criminals. His newest series is about the former army ranger Quinn Colson.
Internationale Buchcover (International Book Cover)
Frankreich (France)
1) Dark End Of The Street
2) White Shadow
3) Devil's Garden
4) The Ranger
5) Dirty South
6) The Lost Ones
Japan
1) The Ranger
2) White Shadow
3) Crossroad Blues
4) Dark End Of The Street
Nick Travers
1) Crossroad Blues
2) Leavin' Trunk Blues
3) Dark End of the Street
4) Dirts South
Quinn Colson
1) The Ranger
2) The Lost Ones
3) The Broken Places
4) The Forsaken
5) The Redeemers
Quinn Colson Playlist
Please follow this awesome Quinn Colson playlist on Spotify!
Stand Alone's
1) White Shadow
2) Wicked City
3) Devil's Garden
4) Infamous