Spenser-Kurzgeschichten (Spenser Short Stories)
Surrogate (1982)
Inhalt: (von Seamus verfasst)
Brenda Loring besucht Spenser's Büro, da sie ein privates Problem hat das nur der Bostoner Privatdetektiv lösen kann:
Sie wurde von einem Mann innerhalb von 2 Wochen bereits zweimal vergewaltigt der in ihr Haus eingebrochen ist. Und ausgerechnet ihr Ex Mann ist mit in die Sache verwickelt, doch die Polizei glaubt ihr nicht. Nun liegt es an Spenser den Fall aufzulösen.
Entstehung:
Das Playboy Magazin hatte damals in den frühen 80ern den Auftrag gegeben eine Reihe an Kurz-Storys (von verschiedenen Autoren) im Crime Genre zu veröffentlichen, zu denen auch Surrogate zählte. Nach einigen Differenzen wurde die Geschichte doch nicht im Heft veröffentlicht, sondern erschien 1982 als gesonderter Band in limitierter Auflage von nur 300 Exemplaren. 
1991 wurde es auf einem Sammelband verschiedener Kurzgeschichten wiederveröffentlicht. 
2012 brachte "Akashic Books" den zweiten Teil seiner Boston Noir Classics heraus, bei dem die rare Geschichte wiedermals veröffentlicht wurde. 
Leseprobe:
Lesen kann man die komplette Kurzgeschichte hier bei google books. Es dürfte die einzige legale Möglichkeit sein, da die Originalausgabe längst vergriffen zu sein scheint. Bei amazon kann man sie für ca. 500 Dollar kaufen, aber mal ehrlich wer gibt schon so eine Unmenge an Geld für gerade mal 15 1/2 Seiten aus? Richtig, keiner!
Summary:
Brenda Loring visits Spenser's Büro, because she has a personal issue that only Spenser can solve. She was raped by a man within 2 weeks. Her ex-husband, he of all people has something to do with this crime, but the Police Department didn't believe her.
You can read the whole short story online. Here.
Spenser Among The Crimson (1984)
Die nach "Surrogate" zweite Spenser-Kurzgeschichte erschien am 17. November 1984 auf der inzwischen nicht mehr existierenden Harvard Footballzeitung "THE GAME - Harvard Football News".
In dieser Geschichte die mehr einer Erzählung gleicht, besuchen Susan & Spenser ein College Footballspiel zwischen Harvard und Yale, bestellen sich ein Hot Dog und reden über das heutige Spiel und über Football allgemein.
The second one of Spenser's Short's was published November 17th in 1984. This story appeared in the now-defunct Harvard Newspaper called "The Game - Harvard Football News".
This story was really short. Spenser and Susan visits a College Football game. 
Spenser's A Fan Too (1988)
Eine 4-seitige Kurzgeschichte von Robert B. Parker zu Spenser ist 1988 auf dem 10. Teil der Lord John Press Sammlung erschienen. Das Buch ist seit langer Zeit bereits vergriffen, da bis auf die Erstausgabe keine weiteren mehr erschienen sind. 
Inhalt:
Genauere Informationen über den Inhalt lassen sich nur spärlich finden. Fakt ist aber dass es sich hier um eine Kurzgeschichte über Spenser und Susan handelt, die ein Spiel der Red Sox besuchen.
Einen kleinen Auszug habe ich noch gefunden:
"I drank some more beer, sampled a Fenway Frank, explained the infield fly rule to Susan, explained it again, joined in a salute to the Marshfield Little League that flashed on the scoreboard.
'I still think it's a dumb rule.' Susan said.  She shelled a peanut and ate half a nut.
'In a sense all rules are dumb.' I said.  'They're arbitrary.  It's what creates sport.  It's not just trying to win.  It's trying to win under these circumstances, within these rules, under these conditions.'
Susan looked at me while she ate the other half of one peanut.  'Reminds me of someone.' she said.
I shrugged.  'It's a way to live,' I said.
She started on her second peanut.  
"Except here the rules are absolute.' Susan said.
'What makes it a game,' I said."
A four-paged Short Story by Robert B. Parker, was published 1988 in the 10th edition of The Lord John Press. The Book is now out of print.
There is much more info needed. It was a short story about Susan and Spenser when they visits a Red Sox game. 
Overhead you can find an excerpt.
A Catcher In The Rye (1990)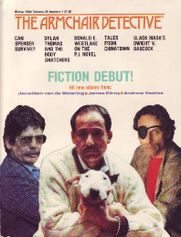 Diese Kurzgeschichte ist auf der Winterausgabe des "Armchair Detective" Magazin's im Jahr 1990 erschienen. Diese Kurzgeschichte stammt aus der Feder von "Barry Donnelly" und nicht von Robert B. Parker selbst. Es ist unklar worum es in "Catcher In The Rye" ging.
This Spenser short story was published in 1990 at a Winter's edition of the "Armchair Detective" magazine. This short gem was written by "Barry Donnelly", not by Robert B. Parker himself. I didn't find a summary of "A Catcher In The Rye".
The Picnic (1998)
Diese Kurzgeschichte soll eine Neufassung eines Kapitels von "Taming A Sea Horse" sein. Es ist 1998 auf einer Sonntagsausgabe der "Fashions of Times" erschienen. Eine Inhaltsangabe konnte ich nicht finden, aber es soll wohl um Susan und Spenser gehen, die im Public Park ein Picknick veranstalten.
This short story is believed to be a rewrite of a chapter in "Taming A Sea Horse". It was published in 1998 at a Sunday's edition of the "Fashions Of Times". I couldn't find a summary, but I believe it was about Susan and Spenser who organize a picnic at the Public Park in Boston.
Boston: History In The Making (1999)
Inhalt: (von Mark "Spenser" Riemenschneider)
Als sie ihre Verdächtigen folgen, liefern sich Spenser und Hawk eine geführte Tour durch die Stadt, von den Geschäften und Restaurants von Beacon Hill zu den Schwan Booten an der Public Garden an die italienische Enklave in der North End. Für Spenser und Hawk Spenser geht es darum, "so unauffällig " wie möglich zu observieren wie zwei Vogelspinnen auf einer Hochzeitstorte," aber sie schaffen es, ihren Fall zu lösen und führen uns in Boston, da nur sie konnten. Begleitende Parker-Einführung gibt Hunderte von herausragenden Bildern aus den Sammlungen der Gegend besten Fotografen gekeult.
Es ist 1999 auf dem Bildband "Boston: History In The Making" erschienen.

As they follow their suspect, Spenser and Hawk deliver a guided tour of the city, from the shops and restaurants of Beacon Hill to the swan boats at the Public Garden to the Italian enclave in the North End. Spenser figures the duo is about 'as inconspicuous...as two tarantulas on a wedding cake,' but they manage to solve their case and, in the process, introduce us to Boston as only they could. Accompanying Parker's introduction are hundreds of outstanding images culled from the collections of the area's finest photographers.
There's No Business (2003)
Eine weitere Spenser-Kurzgeschichte wurde auf der bereits nicht mehr existenten "Audiobooks Today" Webseite von Robert B. Parker im Februar 2003 veröffentlicht. Es ging wohl um Susan's Freund "Bob" der gerne auch mal Detektiv sein möchte.
Another Short Story was published in 2003 in the now defunct Audiobooks-Today website. It was about Susan's friend Bob who wishes to be a private investigator one time.
You can read the whole story here:
The Kitchen Caper (2003)
In der Sonntagsausgabe des Boston Globe Magazine das am 16. März 2003 erschienen ist, gab es eine weitere Kurzgeschichte von Spenser.
In the Sunday' edition of the Boston Globe Magazine, another Spenser short story was published in 2003.
You can read the whole short story here.
Spenser (2009)
Kompletter Titel: In Pursuit of Spenser: Mystery Writers on Robert B. Parker and the Creation of an American Hero
Inhalt: (von Spenser)
Registriert vom preisgekrönten Geheimnis von Redakteur Otto Penzler und ein erstklassiges Lineup von Mystery Writers, bei der Verfolgung von Spenser und der Mann, der ihn geschaffen hat, Robert B. Parker. Dies sind die Schriftsteller, die Parker am besten kannten beruflich und persönlich, Austausch von Erinnerungen des Mannes, Reflexionen über seine Auswirkungen auf das Genre, und Einblicke in das, was Spenser so geliebt hat. Von Hawk, Susan Silverman zu Jesse Stone und Sunny Randall, aus der Serie 'Boston Milieu , Parker hatte immer seine eigene Charakter genommen, In Pursuit of Spenser ist eine Hommage an Spenser und Parker, mit Zuneigung, Humor und einer tiefen Wertschätzung für das, was sowohl hinter sich gelassen haben.
Summary:
Join award-winning mystery editor Otto Penzler and a first-rate lineup of mystery writers as they go in pursuit of Spenser and the man who created him, Robert B. Parker. These are the writers who knew Parker best professionally and personally, sharing memories of the man, reflections on his impact on the genre, and insights into what makes Spenser so beloved. From Hawk to Susan Silverman to Jesse Stone and Sunny Randall, from the series' Boston milieu to Parker's own take on his character, In Pursuit of Spenser pays tribute to Spenser, and Parker, with affection, humor, and a deep appreciation for what both have left behind.