Weihnachten bei Spenser (A Spenser Christmas)
Mit einem Weihnachtsroman und einer Weihnachtsfolge, aber auch in weiteren Romanen gab es einige Infos darüber, wie Spenser die Festtage zelebriert. 
With a Christmas novel and a Christmas episode, but also in other novels, there was some info about how Spenser celebrates the holidays.
Silent Night - A Spenser Holiday Novel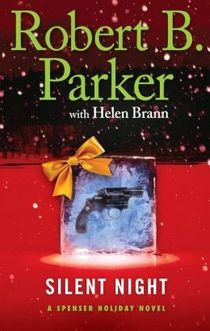 2013 erschien der von Robert B. Parker im Jahr 2009 angefangene Special-Roman, "Silent Night". Vollendet hat ihn seine frühere Buchagentin "Helen Brann".
Inhalt:
Es ist kurz vor Weihnachten. bei Spenser und Susan laufen die Weihnachtspläne auf Hochtouren - da kommt der junge Slide in Spensers Büro und bittet ihm im Auftrag seines Freundes Jackie um Mithilfe. Das Strassenkinder-Projekt, welches Jackie leitet, wir sabotiert. Was steckt dahinter? Spenser und Hawk nehmen erste Spuren auf und finden sich schon bald in ein verworrenes perfides Spiel wieder...
Deutscher Text von: Mark "Spenser" Riemenschneider.
It's December in Boston, and Spenser is busy planning the menu for Christmas dinner when he's confronted in his office by a young boy named Slide. Homeless and alone, Slide has found refuge with an organization named Street Business, which gives shelter and seeks job opportunities for the homeless and lost. Slide's mentor, Jackie Alvarez, is being threatened, and Street Business is in danger of losing its tenuous foothold in the community, turning Slide and many others like him back on the street. But it's not a simple case of intimidation – Spenser, aided by Hawk, finds a trail that leads to a dangerous drug kingpin, whose hold on the at-risk community Street Business serves threatens not just the boys' safety and security, but their lives as well.
Unfinished at the time of his death, Silent Night was completed by Parker's longtime agent, whose decades-long association with Parker's work gives her unique insight and perspective to his voice and storytelling style. Her contribution also speaks volumes about their enduring friendship.
Angst und Hoffnung (The Hope and Fears)
Diese Folge aus der 2. Staffel war die einzige Weihnachtsepisode der Serie Spenser.
Deutscher Inhalt:
Vorweihnachtszeit: Rita Fiori und Spenser wollen gemeinsam Weihnachten feiern. Eine Serie von Raubüberfällen wird verübt, und in zwei der Fälle gibt es auch Augenzeugen. Der kleine Andy hat einen der Täter ohne Maske gesehen. Wenig später ist der Junge spurlos verschwunden. Auch bei Hawk wurde während seiner Abwesenheit eingebrochen. Spenser und Hawk beschließen, eine weitere Zeugin als Köder zu benutzen.
Quelle: fernsehserien.de
--- 
This episode of the second season was the only Christmas episode of the series Spenser: For Hire
Summary
A 13-year-old boy and a pregnant woman glimpse the face of the leader of a masked gang robbing Spenser's neighborhood at Christmastime.
.
tvguide.com
Weihnachtslieder aus den Romanen und der Serie (Christmas carols mentioned in the novels and the TV Series)
Winter Wonderland (The Godwulf Manuscript, chapter 11)
Deck The Halls (Stardust, chapter 12)
Rudolph The Red-nosed Reindeer (Silent Night, various chapters)
Feliz Navidad (Silent Night)
Oh Come All Ye Faithful
Oh Tannenbaum / Oh Christmas Tree
Jingle Bells
Stille Nacht /Silent Night
Deck The Halls
Weihnachtsgerichte (Christmas-meals)
in den Romanen
Dieses Rezept stammt aus dem Roman Silent Night.
Zutaten:
1 Ente
1 Truthahn
1 junges Hähnchen
Maisbrot
Schweinswurst
Zwiebel
Sellerie
Olivenöl
koscheres Salz
Pfeffer
Cranberries
Orangenschalen
Baguettewürfel
Getränke:
Champagner
Orangensaft
Zubereitung:
Knoblauch, Butter, Salbei und Thymian miteeinander vermischen und zwischen die Haut und dem Fleisch vom Truthahn verteilen.
Für die Füllung des Truthahn's, die Mischung aus Schweinswürste, gehackte Zwiebeln, Maisbrot, Sellerie, Olivenöl, koscherem Salz und Pfeffer ins Innere hineingeben.
Für die Füllung der Ente, die Mischung aus frischen und getrockneten Cranberries, Orangenschalen und Baguettewürfeln hineingeben.
Für die Füllung des Hähnchens, wieder eine Maisbrotfüllung (wie beim Truthahn) dazugeben.
Nun die Hinterseiten der Ente und des Hähnchens zuspießen, damit keine Füllung mehr heraustreten kann.
Als nächstes die beiden Seiten der Ente mit dem Hähnchen bedecken und zuspießen. Das gleiche nun mit dem Truthahn wiederholen.
Nun das Turducken umdrehen zur Brustseite um die Spieße zu entnehmen.
In den Ofen schieben (erwähnt er nicht mehr, klingt doch aber einleuchtend)
This recipe comes from the christmas novel Silent Night.
Ingredients:
1 duck
1 turkey
1 young chicken
Pone
pork Sausage
Onion
Celery
Olive oil
Kosher salt
Pepper
Cranberries
Orange peel
Baguette cubes
Drinks:
Champagne
Orange juice
Direction:
Mix garlic, butter, sage and thyme together and distribute the turkey between the skin and the meat.
For the filling of turkey 's, pour in the mixture of pork sausages, chopped onions, corn bread, celery, olive oil, kosher salt and pepper in the interior.
For the filling of the duck, pour in the mixture of fresh and dried cranberries , orange peel and baguette cubes.
For the filling of the chicken , add again a cornbread stuffing (like the turkey).
Skewer now the rear sides of the duck and the chickens so no more filling can escape .
Cover and skewer the both sides of the duck with the chicken. The same now repeat with the turkey.
Now the Turducken breast side turn to refer to the skewers .
Push (he no longer mentioned , but sounds plausible) in the oven.
in der Serie (in the TV Series)
Spenser spricht in der Folge "Angst und Hoffnung" davon wie er seinen Truthahn zubereiten möchte. Doch leider erfährt man nicht allzu viel.
Die Zutaten sind folgende:
(Truthahn)
gehackte Walnüsse 
Zwiebeln
Äpfel
---
Spenser talks in the episode "The Hopes and Fears" of how he wants to cook his turkey. But unfortunately, we learn not too much. 
The ingredients are as follows: 
(Turkey) 
chopped walnuts 
onions 
apples
Weihnachtsgedichte aus den Romanen (Christmas poems in the novels)
"The ghost of Christmas past. Maybe of a Christmas future for the Burlingtons"
from: A Christmas Carol by Charles Dickens (Mortal Stakes, chapter 1o)
Fan Art
Banner