SPENSER AUF VHS, DVD & BLURAY
SPENSER: FOR HIRE ON VHS, DVD & BLURAY
Auf dem deutschen DVD Markt sieht es derzeit sehr schlecht aus. Von unserer Lieblings-Fernsehserie gibt es derzeit auf DVD und oder BluRay keinerlei Episoden zu erwerben. Man findet zwar ab und an durch googeln diverse Angebote, dieses sind jedoch allesamt keine offiziellen DVDs und auch qualitativ sind diese Aufnahmen auf mäßigem VHS Standard. Die meisten Quellen, die man (illegal) im Internet findet, sind - ohne mich jetzt selbst zu rühmen - meine eigenen, früher selbstaufgenommenen Episoden, die ich für einige Bekannte in den letzten Jahren auf Freundschaftsbasis überspielt habe und davon diese eben ins Internet gelangt sind (ohne mein Wissen und meiner Erlaubnis!). Dazu muß ich aber auch nochmals betonen, dass Angebote dieser Art nach deutschem Recht illegal sind und dieses auch vom Gesetz her nicht als Kavaliersdelikt gehandet wird.
Aber neben Deutschland siehts auch im restlichen Europa, einschliesslich Großbritannien nicht besser aus. Nur in Japan sind außerhalb der USA VHS Kassetten von der Serie erschienen.
Besser sieht es da schon auf dem US-Markt aus. Schon im Jahre 1995 erschienen alle 4 Reunion-Movies als VHS Kaufcassette . Diese  erfreuten sich großer Beleibtheit und waren damals auch schnell ausverkauft. Diese VHS Tapes haben so ausgesehen: (sofern uns derzeit Bildmaterial vorliegt).
---
On the German DVD market it currently looks very bad. From our favorite TV series, there aren't  DVD's or BluRay's and no episodes to purchase. We may find from time to time by via search engines various offers, but they are all unofficial DVDs and qualitatively, these recordings are on VHS standard. Most sources you (illegally) found on the Internet are - without to praise myself - my own earlier self-recorded episodes that I've overplayed for some friends in the last few years on friendship basis and these are just put out into the Internet (without my knowledge and my permission). 
But besides Germany, in the rest of Europe, including the UK, the situation isn't better. Only in Japan, VHS cassettes of the series have been published outside the United States.
It looks better on the U.S. market. In 1995, all 4 reunion movies have been released on VHS. The VHS enjoyed great obesity and were then also sold out quickly. These VHS tapes have looked like this: (if we have present material).
Am 28.06.2005 erschien in den USA erstmals etwas von "Spenser: for Hire" auf DVD.- Da erschien eine Komplettbox mit allen 4 Reunion-Movies. Sie bestand aus einem Pappschuber, worin jeweils alle 4 Einzel DVDs enthalten waren. 2007 gab es die Filme dann auch jeweils einzeln zu erwerben.
Diese DVD Gesamtbox, alsauch die Einzel DVDs sind heute mittlerweile restlos vergriffen und die Gesamtbox wird mit bis zu $ 150 gehandelt, die Einzelfilme auch nur knapp weniger.
Hier Abbildungen dieser Collection:
---
On 28th July in 2005, Spenser: For Hire was published in the United States for the first time on DVD.- A DVD complete box set appeared with all four reunion movies. It consisted of a cardboard sleeve, wherein each of the 4 individual DVDs were included. 
This DVD complete box set and also the single DVDs are now completely sold out and the complete box set costs now up to $ 150, the individual films also just less. 
Here are pictures of this collection: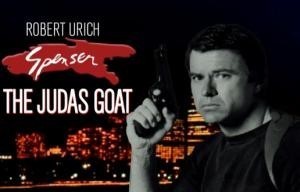 Zu "Judas Goat" gab es sogar einen Promobanner: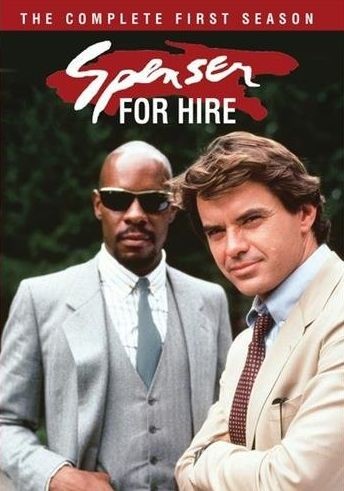 Die große Sternstunde für die TV-Serie, auf die wir solange gewartet haben, brach dann 2014 an. Dort erschien nun endlich die komplette 1. Staffel der Kultserie auf DVD. Laut Auskünften von WARNER BROS. sollen 2015 auch Staffel 2 und Staffel 3 folgen.
Nach Informationen eines Bekannten von mir, der diese Box bereits sein eigen nennt, soll die Bildqualität , alsauch die Tonqualität ganz gut sein. Eine digitale Überarbeitung wurde jedoch nicht vorgenommen.
---
The climax for the TV series, to which we have been waiting years for, then broke in 2014. In the US  the complete first season of the cult series was released on DVD. According to WARNER BROS. in 2015, Season 2 and Season 3 will follow. 
According to information of a friend of mine who already has bought this DVD, is the viewing quality and also the sound quality, quiet good. A digital revision was not made.
Ich bin mit der Bildqualität der DVDs sehr zufrieden. Bedauerlicherweise gibt es keinerlei Bonusmaterial, das Menü ist nicht musikalisch untermalt und - der größte Minuspunkt: es gibt keinerlei Untertitel, was besonders für gehörlose Menschen ein Schlag ins Gesicht ist.
Ich habe euch mal Screenshots von den DVDs gemacht:
-----
I am very satisfied with the picture quality of DVDs. Unfortunately there is no bonus material, the menu is not accompanied musically and - the biggest negative point: there are no subtitles, which is a slap in the face especially for deaf people.

I made screenshots from the DVDs:
Staffel 2 erscheint am 12.05.2015 in den USA ( Season 2 comes 05/12 in the US!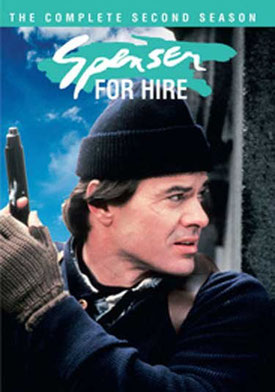 Warner macht sein Versprechen bezüglich Staffel 2 nun wahr! Am 12.05. erscheint nun Staffel 2 in den USA auf DVD. Wir dürfen hoffen, das in punkto Bild- und Tonqualität wieder so erstklassige Arbeit wie bei Staffel 1 gemacht wird, wobei es auch hier sicher keine digitale Überarbeitung geben dürfte. Mehr dazu (auch in Bildern), sobald ich diese Box habe :)
Warner makes his promise regarding Season 2 now true! At 05/12 Season 2 was released in the US on DVD. We may hope that the first-rate job as in Season 1 was done again as in the first season, especially, when it comes to picture and sound quality, but it is safe to say that there wasn't a digital edit. See more (also in pictures,too), when I have this box :)
Inoffiziell möchte ich euch auch meine von mir selbstangefertigten Cover vorstellen, die ich für meine Episoden verwendet habe.
...
Unofficially, I present my german self Made DVD Cover, that I made for my DVDs.
BluRays gibt es nachwievor weltweit nicht. Es wäre natürlich schön gewesen, wenn WARNER die erste Season auch gleichzeitig auf BluRay veröffentlich hätte, aber bei älteren Serien nimmt man ja meistens davon Abstand, alleine deswegen, weil die Episoden alle nicht digital überarbeitet wurden und somit eine BluRay folglich auch nicht viel Sinn ergeben würde. Aber wer weiß? Vielleicht ändert sich dies ja eines Tages mal. Drücken wir die Daumen!
---
BluRays are still not available. It would have been nice if WARNER would be published the first season on BluRay at the same time, but with older TV series, most publishers will restrain because the episodes were not all digitally remastered. But who knows? Perhaps one day this will change. Fingers crossed!
Die Filme mit Joe Mantegna / The Movies with Joe Mantegna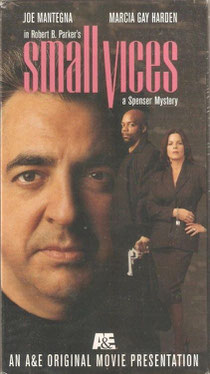 Von den 3 gedrehten Filmen mit Joe Mantegna als "Spenser" sind in Deutschland  ebenfalls noch keine DVDs erschienen, auch keine Videocassetten.
There aren't any DVDs and VHS of the Spenser movies starring Joe Mantegna, available in Germany.
In den USA siehts in diesem Fall auch nicht sehr viel besser aus. Lediglich der erste Film "Small Vices" erschien in den USA auf Videocassette.
It doesn't look better in the United States. Only the first movie "Small Vices" was released in the US on VHS.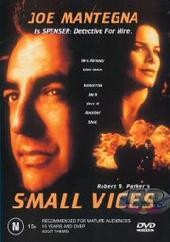 Auf DVD ist "Small Vices" in den USA bis jetzt leider nie erschienen. Aber trotzdem muß man nicht darauf verzichten. In Neuseeland hat man sich die Mühe gemacht, "Small Vices" auf DVD zu veröffentlichen.
Small Vices was never released on DVD in the US. But you don't have to worry. In the land at the end of the world, in New Zealand, this TV movie was released on DVD.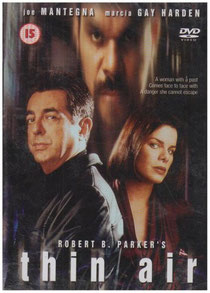 In Großbritannien ist auf DVD ebenfalls nur ein Film erschienen, merkwürdigerweise jedoch nicht "Small Vices", sondern der zweite Film "Thin Air".
The second movie "Thin Air" was released on DVD in the United Kingdom.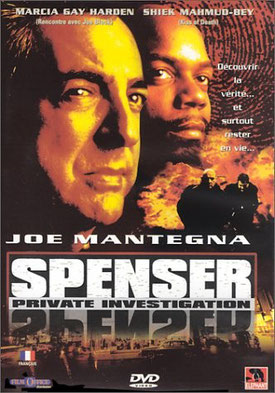 In Frankreich ist der erste Mantegna-Film ebenfalls auf DVD erschienen. Ich denke, dass es "Small Vices" ist, da Shiek Mahmud-Bey auf dem Cover erwähnt wird, der Hawk ja nur im ersten Film spielte.
In France, the first Mantegna film has also been released on DVD. I think that it is "Small Vices" because Shiek Mahmud-Bey is mentioned on the cover, he portrays Hawk only in the first movie.
Von dem dritten Film "Walking Shadows" gibt es leider weltweise weder Videocassetten noch DVDs zu kaufen.  Hoffen wir, dass sich das nochmal ändern wird. Am schönbsten wäre es natürlich, wenn es eine Gesamtbox mal geben würde, mit allen drei Filmen.
Unfortunately, the third movie "Walking Shadow" was never released on DVD or on VHS.